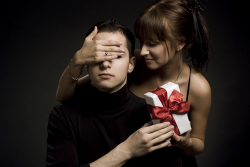 West Sacramento, Calif. – February 1, 2010 – Valentine's Day is a day full of promise, romance and goodwill. Gifts are often exchanged between couples that show love, respect and knowledge of their wishes. Wishzilla, of West Sacramento, California, wants to help couples across the country make the most of this opportunity and not give the wrong gift.
"Picture a couple at a romantic dinner, having a wonderful time and then as she opens the gift he has given her, the joy drains from her face," said Rob Watts of Wishzilla. "A bad gift can ruin a wonderful evening and even a relationship, and we want to help people give better gifts by sharing what they are looking for with Wishzilla."
At Wishzilla.com, people can create Wishlists of things they want, need or would like to be part of – from coveted products to time with a loved one – and share their wishes with friends and family so time and money won't be wasted on gifts that aren't wanted or needed.
Last year, Wishzilla declared war on regifting, which is caused by bad gift giving. Giving the wrong gift during any holiday, especially Valentine's Day, can have a negative impact on a relationship, so Wishzilla is asking everyone to give better, more thoughtful gifts this Valentine's Day.
To help bring an end to the pain of regifting and help more couples enjoy their Valentine's Day, please go to Wishzilla.com and create a free Wish List today. After creating a Wish List, it's easy to share lists with family members and Facebook friends.
Share stories of how to give good gifts with Wishzilla on Twitter at Twitter.com/Wishzilla.
About Wishzilla
Wishzilla, LLC is a Traction Systems (www.tractionsys.com) venture created to make it easier for people to give great gifts. More information is available at www.Wishzilla.com.
###