We have our winners!
Congratulations to the winners of our RT contest: @, @, @, @, and @. They each are eligible to win an item on their wishlist valued up to $50, or an Amazon $50 gift card!
Stay tuned for our next giveaways on Facebook and Twitter, coming soon!
Contest Details...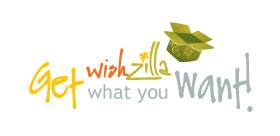 Wishzilla announces our great Twitter retweeting giveaway! Retweet the message below for a chance to win a $50 Amazon Gift Certificate or an item from your wishlist valued at up to $50. Hurry, because you only have until 6:00 p.m. Pacific Time on December 2, 2009!
Click this Tweet to enter:
RT this msg for a chance to win a $50 Amazon gift cert or something off your @Wishzilla wishlist! http://bit.ly/5wge4E
NOTE: If you're new to Twitter, visit http://www.twitter.com and sign up. Once you're logged in, click the above text to link to Twitter and just click "update." Make sure you follow @Wishzilla, too!
The Pesky Details
There is no cost to submit your entry to win. Five winners will be selected at random immediately following the contest on December 2, 2009, from all of the retweets, and users must also have a Wishzilla wishlist established so we can choose a wish to fulfill.
We will choose a wish from your wishlist valued at up to $50, and since we need to ship it to you it needs to actually be shippable. If you have no wishes that qualify we will send you an Amazon gift certificate for $50. If you are one of our winners, we will contact you via Twitter with further instructions.
This contest is void where prohibited. Wishzilla employees, affiliates, and their immediate families are not eligible (but please retweet anyway!). We reserve the right to publicize your Twitter name and what we get you.
Happy Tweeting!